Bioengineer, Analytics Platform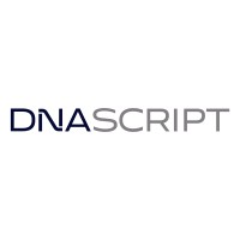 DNA Script
Data Science
le kremlin-bicêtre, france
Posted on Tuesday, August 8, 2023
DNA Script
DNA Script is a leading company in manufacturing de novo synthetic nucleic acids using enzymatic DNA synthesis (EDS) technology. The company aims at accelerating innovation in life science and technology through the decentralization of rapid, on demand and high-quality DNA synthesis. DNA Script's approach leverages nature's billions of years of evolution in synthesizing DNA to set a new standard for customizing nucleic acid synthesis thus accelerating discovery in genetics, genomics, and synthetic biology. Discovery disciplines with profound impacts upon humanity such as biopharma, translational genetics and even molecular information storage all start with synthetic DNA. The company has recently initiated the commercialization of its first EDS powered platform, the SYNTAX system.
To date, DNA Script has raised over $315M of financing, with leading investors such as Coatue Management, Fidelity Management and Research, Catalio Capital Management, Casdin Capital, LSP, Bpifrance Large Ventures, Danaher, Illumina Ventures, Agilent, Merck Ventures, Sofinnova Partners, Kurma Partners, T Rowe Price, Baillie Gifford and Eurazeo.
DNA Script also partners on technology and product development with leading organizations such as DARPA, IARPA, Moderna Therapeutics, GE Research, Illumina, the Broad Institute, Harvard University, Institut Pasteur and the French Department of Defense.
DNA Script has its research and manufacturing facilities headquartered in Paris, France, and is in the process of expanding its commercial and development teams in South San Francisco.
Opportunity and Challenges :
We are looking to assemble a team of best-in-class, innovative and passionately eager people. We want to gather their talents and skills to achieve one goal: unlock the power of "DNA-write." We offer the opportunity of joining a dynamic, international, and highly skilled team in a pioneering startup. Our DNA On Demand platform not only has the potential to change the way the world makes and uses synthetic DNA, but also to accelerate the rate of discovery by delivering upon the promise of same-day results.
This is an opportunity to join a rapidly growing company and to have a large impact on developing a technology that will have far-reaching impacts across biological sciences.
The Role
Within DNAScript, the Analytics platform is part of the Synthesis Platform team. Its main mission consists of providing reliable data for routine analysis:
Assess the purity oligonucleotides produced in house
Provide a critical view on the data
Help R&D teams to assess the impact of any modification in their processes and protocol
Ensure the robustness of the analytical processes and propose new optimizations
We are looking for an Analytics Platform Bioengineer, who will be in charge of organizing the activity of the Analytics platform team, improving the processes and guarantee the quality of data delivered.
Main Responsibilities:
Understand the analytical techniques used in routine in the laboratory mainly around electrophoresis, such as polyacrylamide gel analysis or capillary electrophoresis.
Perform oligonucleotide analysis experiments on all instrumentation
Organize the platform's activity to accommodate priorities of requests, as well as optimal use of instrumentation
Analyze critically the results and consolidate data across the Analytics platform runs in order to provide reliable and reproducible data
Manage reagents and consumables stocks and ensure traceability throughout the analytical platform process
Participate in the optimization of the existing processes and the implementation of any new technology or automation enabling an increase throughput and/or improved service quality
Work on improving the data analysis process and participate in the integration of the analytical data in the internal database developed by the DataSciences team
Interact with many teams to better understand their needs, provide best configuration integrating the platform constraints, manage priority if necessary
Ensure good usage and maintenance of the platform instrumentation
Write Work Instructions, SOPs and reports for internal tracking, development processes and technology transfer to the Product Development or QC Teams
Regularly present and report across all levels of the company.
Actively contribute to critical company milestones, with a willingness to work outside immediate area of expertise when required.
Experience:
Master, Engineering degree in the field of molecular biology, analytical biochemistry, biotechnology
Experience in working/running a service platform and good understanding of the constraints
Experience in management
Fluent in both French and English
Excellent organizational, analytical, and systematic troubleshooting skills
Experience in automation
Down-to-earth mindset focused on finding simple solutions to complex problems.
Extremely rigorous with a very high attention to details, have a service mind set.
Ability to work as part of a multidisciplinary team. Excellent communication and interpersonal skills.
Highly motivated and proactive
Miscellaneous
Permanent position
Job located in Kremlin Bicêtre, France
Start date: As soon as possible.
Recruitment Process:
Initial screening with the hiring manager
Day interview at the office (or remote) with the manager, cofounders, HR and the rest of the team
Reference Checks
Timing: 2-3 weeks