Marcom Manager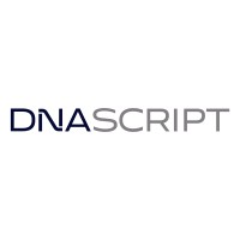 DNA Script
le kremlin-bicêtre, france
Posted on Tuesday, August 8, 2023
DNA Script
DNA Script is a leading company in manufacturing de novo synthetic nucleic acids using enzymatic DNA synthesis (EDS) technology. The company aims at accelerating innovation in life science and technology through the decentralization of rapid, on demand and high-quality DNA synthesis. DNA Script's approach leverages nature's billions of years of evolution in synthesizing DNA to set a new standard for customizing nucleic acid synthesis thus accelerating discovery in genetics, genomics, and synthetic biology. Discovery disciplines with profound impacts upon humanity such as biopharma, translational genetics and even molecular information storage all start with synthetic DNA. The company has recently initiated the commercialization of its first EDS powered platform, the SYNTAX system.
To date, DNA Script has raised over $315M of financing, with leading investors such as Coatue Management, Fidelity Management and Research, Catalio Capital Management, Casdin Capital, LSP, Bpifrance Large Ventures, Danaher, Illumina Ventures, Agilent, Merck Ventures, Sofinnova Partners, Kurma Partners, T Rowe Price, Baillie Gifford and Eurazeo.
DNA Script also partners on technology and product development with leading organizations such as DARPA, IARPA, Moderna Therapeutics, GE Research, Illumina, the Broad Institute, Harvard University, Institut Pasteur and the French Department of Defense.
DNA Script has its research and manufacturing facilities headquartered in Paris, France, and is in the process of expanding its commercial and development teams in South San Francisco.
Opportunity and Challenges :
We are looking to assemble a team of best-in-class, innovative and passionately eager people. We want to gather their talents and skills to achieve one goal: unlock the power of "DNA-write." We offer the opportunity of joining a dynamic, international, and highly skilled team in a pioneering startup. Our DNA On Demand platform not only has the potential to change the way the world makes and uses synthetic DNA, but also to accelerate the rate of discovery by delivering upon the promise of same-day results.
This is an opportunity to join a rapidly growing company and to have a large impact on developing a technology that will have far-reaching impacts across biological sciences.
The Role
This role supports global marketing initiatives for DNA Script, with specific focus on downstream marketing to drive awareness and lead generation. Key responsibilities include supporting creation and execution of marketing strategies and tactics, social media campaigns, and website content. This role also owns conference & event planning and coordination.
Main Responsibilities
Create content for marketing collateral, presentations, digital media, website, and customer facing documents. Ensure consistency of message, clarity, and accuracy.
Coordinate conferences, tradeshows, podcasts, webinars, and events.
Support marketing efforts for industry conferences, including but not limited to, announcements of new products or application, creating social media content, creating pre/post show promotions, etc.
Coordinate and Support national sales meetings and events.
Manage company social media presence, create content for postings, respond to comments, and connect with the community.
Develop metrics and analytics on social media postings and campaigns.
Manage and update the DNA Script website.
Collaborate with key stakeholders in Marketing, Sales, R&D, and Regulatory to assist in developing marketing assets and routing materials through the promotional material approval process.
Support DNA Script brand development by creating key branding components (templates, logos, etc)
Support product launches through collateral development, demo kits, videos, etc
Leverage R&D and customer evidence to create marketing content to promote products.
Maintain existing marketing / sales material collateral, updating or obsoleting as needed.
Qualifications and Education Requirements
Bachelor's Degree in Science, Marketing, Business, or related is required. MBA preferred.
3+ years of marketing in life sciences is required.
Exposure to interpreting technical concepts and translating into market messages for a range of applications.
Experience executing marketing campaigns that require collaboration across various disciplines within the company.
Preferred Skills and Abilities
Experience with and ability in supporting the creation and management of MarCom collateral and digital marketing assets
Demonstrated written and verbal communication skills.
Demonstrated strong initiative in accomplishing work and ability to manage multiple tasks under tight deadlines.
Keen attention to detail.
Ability to effectively communicate at multiple levels in the organization.
Effectively builds and maintains positive relationships across all organizational levels while working in a team-driven environment. Maintains a positive attitude.
Ability to maintain composure under stress and always exhibit a high degree of professionalism.
Strong organizational skills.
Strong analytical skills working with research data.
Excellent use of MS Office including PowerPoint and Excel software
Miscellaneous
Job located in Kremlin Bicêtre (France)
Start date: As soon as possible
Recruitment Process
Initial screening with the hiring manager
Day interview at the office (or remote) with the manager, cofounders, HR and the rest of the team
Reference Checks
Timing: 2-3 weeks
Contact